President, Founder
Arthur is a Five-Time National Speech Champion of Toastmasters International. He has won the Albert Prize for Best Academic Contestant, academic scholarships, among several accolades in Speech and Debate. He has judged the EUTH debate finals, has spoken in more than 12 countries and has coached hundreds of students to become great speakers and debaters.
Summer Program Country Director
All is a young talent born with a sense of hunter attitude. Along with over 8+ years of experience, both domestic and overseas, in sales. Passionate in International cultural activities, particularly in cross-cultural borders, with various cultural knowledge; and a sense of humor. Confident in everything he does, with an innovative mindset. Eager for success, always looking for new challenges.
Business Development Partner
Wah is a Thai-Taiwanese Business Graduate from Washington State University. She has years of experience in education and being a coordinator.
Consulting Partner
Melon is a professional trainer for translation and interpreter for international speakers such as Brian Tracy, Mary Buffet, Michael Buldoc, etc.
Speech Coach
Preity is an activist, educator and beauty pageant. She has been a part of Climate Strike Thailand, conducting workshops related to the environment at several international schools. She is also a contender for Miss Universe Thailand 2022. She is a software engineering graduate from King Mogkut's Institute of Technology
Speech Coach
Dr.Vimviraya Lim is an early career researcher, university instructor, certified soft skills trainer and style strategist (NY certified academy). She has a BA from Chula, MA from University of Leeds and a P.h.D in Communication from University of Illinois.
Debate Coach
Sharon is a corporate lawyer, MOOT court champion, former Australasian Debate Champion (ESL).She has debated in over 30 competitions, coached and conducted debate workshops in Hong Kong, Korea, Taiwan, China, Malaysia and others. She is a LLB graduate from University of Malaya.
Teen Success Coach
Mozz is a teen success coach, certified NLP Master Practitioner and inspirational speaker. He has attended certification trainings from Michael Buldoc, Blair Singer, Vince Tan, Tony Robbins and others.
The Founders
About Arthur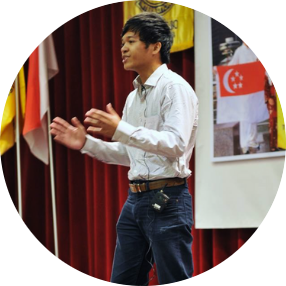 ---
At 25 years old, the 5-time national award-winning and dynamic speaker, Arthur is one of the youngest rising motivational speakers in Asia. He shares powerful stories and experiences that come with life-transforming lessons.
At the age of 3, he and his family migrated to Malaysia. Arthur grew up with a French step-father. After 8 years, they migrated to Thailand and have been living there for 14 years now.
From being a teacher at a public school to being a commercial model of Android One, or from being a trainee at Air France to being one of the top speakers and debater that travel the world for competitions, Arthur believes that we learn the most from experience and having the right mentors.
With 11 years of public speaking at competitions, events, concerts, debate tournaments, youth groups and 6 years of leadership from president of high school to pioneering organizations at his university, Arthur hopes to motivate, inspire and share his life to as many people as possible. He's the founder and president of the A-Team Academy, in his passion for training the next generation of world changers through means of public speaking, debate and leadership training. He's also currently preparing for an accelerated Master's degree at M.I.T.
About Chad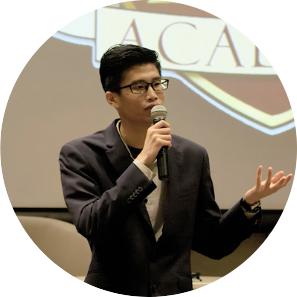 ---
Chayathorn Purungrit (Chad), born and raised in Taiwan and completed his undergraduate studies in Thailand (a Science graduate of Mahidol University), currently has over 4 years of teaching experience and is about to complete his graduate studies at Mahidol University. He has taught full time at Ekkamai International School from 2014 – 2015 and since then he has been actively involved in training English, Science, and Math.

Since 2013, he has been participating in national and international debate tournaments, notably the EU-TH (European Union – Thailand) intervarsity debate championship, UADC (United Asian Debating Championship) and ICU – International Christian University debate tournament (Japan). In these tournaments, Chad has been both an adjudicator and debater, and his team has won the semi-finalist award in the EU-TH debate championship.

In addition, Chad has been invited to speak at various events such as pre-launch business talks and church youth group events.

From being the introverted individual, hesitant in expressing himself before joining the debate club at his college, he found the value of public speaking and debate which were instrumental in shaping him to who he is today. Since graduating from college, he found great passion in sharing his experience to others, especially to those who struggle in public speaking.