---
Mission
To create world changers through world-class capacity building, soft skills, and career development programs
Vision
To become the leading global educational service organization and change the world through the social impact of trained world changers
Our Latest Events
Speech and Debate Classes (Oct 14 or 15)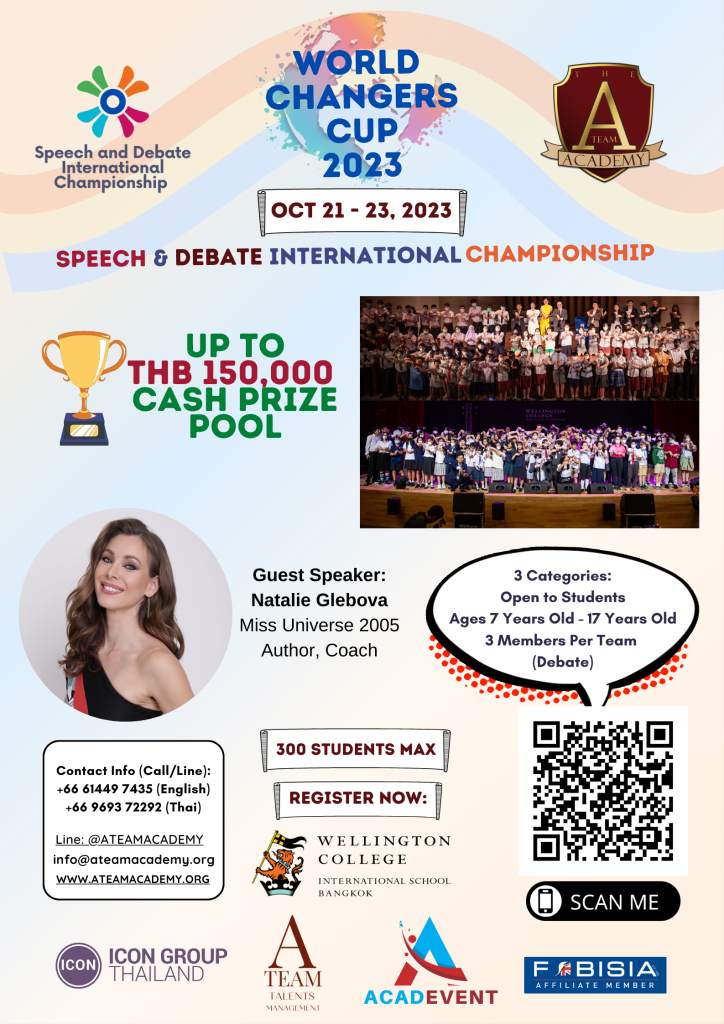 Unlock your potential and sharpen your skills with our speech and debate program!

Our program provides a unique opportunity for students to develop critical thinking, research, public speaking, and persuasive communication skills in a supportive and collaborative environment. Whether you're a beginner or an experienced debater, our program is tailored to meet your needs and help you reach your goals.

Participants will engage in a variety of activities, including debate, public speaking, and mock trials, that will challenge them to think critically and communicate effectively. Our experienced coaches provide personalized feedback and guidance to help each student improve their skills and reach their full potential.

Not only will our program enhance your academic and professional skills, but it will also boost your confidence and self-esteem. You'll learn to express your opinions and ideas with clarity and conviction, and develop lifelong skills that will serve you well in any future endeavor.

Join our speech and debate program and become part of a community of motivated and passionate learners. You'll gain invaluable experience, make new friends, and have fun while building the skills you need to succeed!

World Changers Cup 2023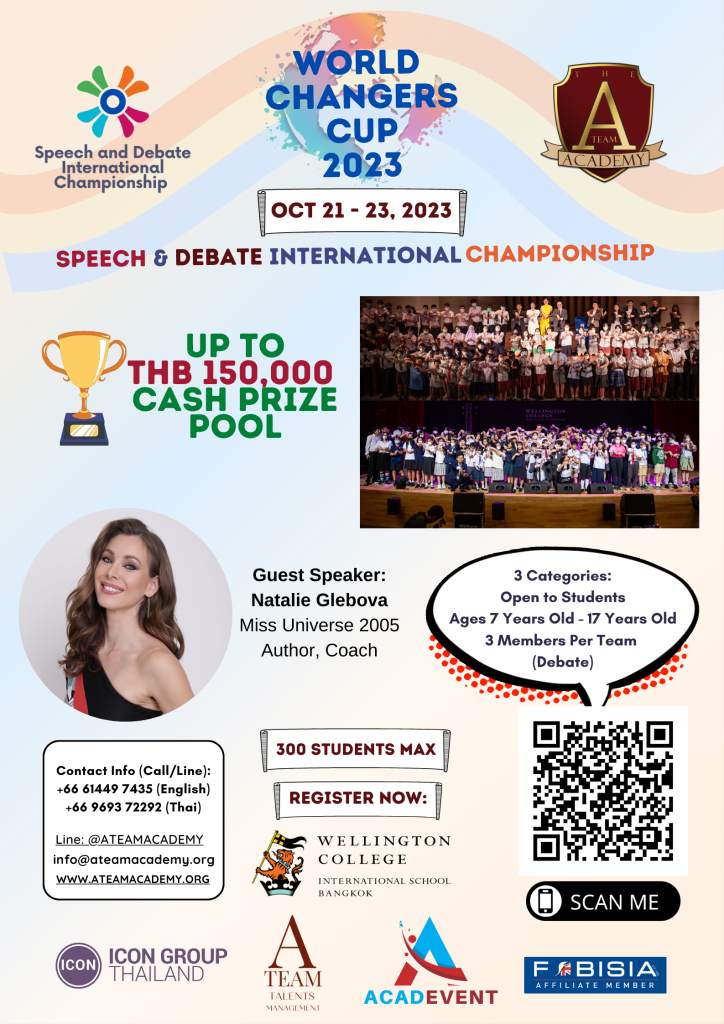 The competition is open to all students from public, private and international schools and universities in Asia and around the world. The goal of this event is to promote critical thinking skills by discussing relevant societal issues as we empower the next generation of world changers to use their voice and share their ideas.
We have an amazing lineup of speakers including Natalie Glebova, top international and national debate judges, all done at the world-class facilities of Wellington College International School Bangkok.
Join more than 100 students from Wellington College Bangkok, Harrow, Shrewsbury, Bangkok Patana, ICS, BASIS, Rugby School Thailand, St.Andrew's, SISB, Bangkok Prep, Denla British School, Wells International School, Anglo-Singapore International School, CUDS, MUIC, and several others who have already registered during Phase 1 to Phase 3.
Everyone is also welcome to attend as observers or judges. Only 300 seats available. Registration open now till September 30, 2023.
World Changers Camp 2021 (April.3-5)
Speech and Debate Competition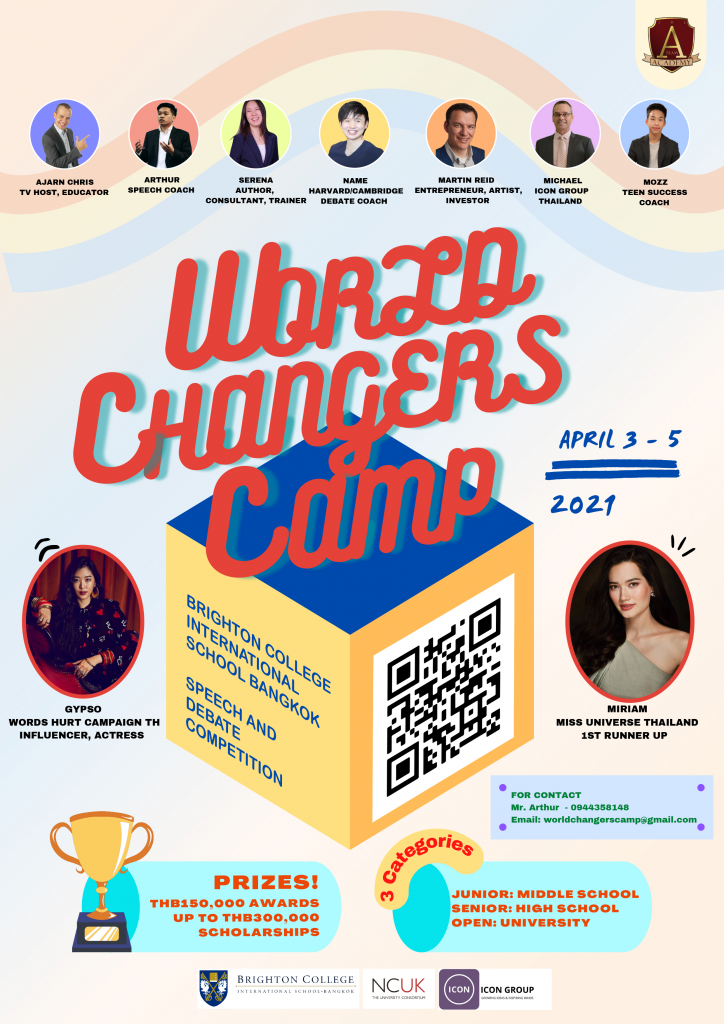 ---

---
The A Team
President, Founder
Arthur is a Five-Time National Speech Champion of Toastmasters International. He has won the Albert Prize for Best Academic Contestant, academic scholarships, among several accolades in Speech and Debate. He has judged the EUTH debate finals, has spoken in more than 12 countries and has coached hundreds of students to become great speakers and debaters.
Summer Program Country Director
All is a young talent born with a sense of hunter attitude. Along with over 8+ years of experience, both domestic and overseas, in sales. Passionate in International cultural activities, particularly in cross-cultural borders, with various cultural knowledge; and a sense of humor. Confident in everything he does, with an innovative mindset. Eager for success, always looking for new challenges.
Business Development Partner
Wah is a Thai-Taiwanese Business Graduate from Washington State University. She has years of experience in education and being a coordinator.
Consulting Partner
Melon is a professional trainer for translation and interpreter for international speakers such as Brian Tracy, Mary Buffet, Michael Buldoc, etc.
Speech Coach
Preity is an activist, educator and beauty pageant. She has been a part of Climate Strike Thailand, conducting workshops related to the environment at several international schools. She is also a contender for Miss Universe Thailand 2022. She is a software engineering graduate from King Mogkut's Institute of Technology
Speech Coach
Dr.Vimviraya Lim is an early career researcher, university instructor, certified soft skills trainer and style strategist (NY certified academy). She has a BA from Chula, MA from University of Leeds and a P.h.D in Communication from University of Illinois.
Debate Coach
Sharon is a corporate lawyer, MOOT court champion, former Australasian Debate Champion (ESL).She has debated in over 30 competitions, coached and conducted debate workshops in Hong Kong, Korea, Taiwan, China, Malaysia and others. She is a LLB graduate from University of Malaya.
Teen Success Coach
Mozz is a teen success coach, certified NLP Master Practitioner and inspirational speaker. He has attended certification trainings from Michael Buldoc, Blair Singer, Vince Tan, Tony Robbins and others.
---
Trusted By